It's the most painstaking emotionally-taxing disgusting horrid offensive grueling fattening time of the year.  As we close this shit  show of a chapter that we call 2016, allow me to indulge in things I look forward to in this,our lady, 2017. Please be captivated by the sights and sounds of the year!
sights:
Reason #1,304 Disney uses $100 bills to wipe their tears of joy
Six of the top ten highest grossing movies last year in the US were Disney-affiliated. Needless to say, 2017's Beauty and the Beast will surely beat the hell out of the box office, break more records, and hopefully hold a….rose…..to the original (haHA!). And I'm looking forward to see how slutty the feather duster is going to be (gives a lingering glance).
Alien 2: not Aliens though
Ridley Scott's Alien (1979) was a game changer in horror/sci-fi. The second installment of the prequel trilogy, and following Promethus (2012), Alien: Covenant seems like it can hold some promise and a bit more action, blood, and family fun come May.
All I've ever wanted since I was a prepubescent
My life was the Mighty Morphin' Power Rangers pretty much from age 8 to 12 when it started to become, like, totes social suicide, and then secretly from age 13 to current). Sure, we had the movie in 1995. But if you look back on it, it's dated and the Megazord battle is embarrassing. Let us bow our heads and pray that 2017's Power Rangers does a lot more than look sexy (we see your tits, Trini) in March.
Kong growed up

Initially I was offended and against this reboot. King Kong (2005) was nothing short of fantastic. Kong: Skull Island is part of the new Godzilla-Kong series after Godzilla (2014) (also nothing short of fantastic), which will lead up to Godzilla vs. Kong in 2020 if you're still alive.
Not Avengers
Marvel has been going to town with hero after hero movies to dominate the box office for the last several years. DC wants in, and I'll open the door, step to the side, and take his or her coat. 2013's Man of Steel made it to my top 53 movies. Batman v Superman and Suicide Squad were very entertaining.  So let's wait and see how nuts the box office goes when this one is released in November.
Slap yo mummy in the face
In the year of reboots, this version of The Mummy will start a new series with Universal Monsters that will debut the Invisible Man, Dr. Jekyll, and Frankenstein's monster. It could be really cool. Plus, this mummy is a girl, so women's rights have come so far after all!
sounds:
the fate of Fifth Harmony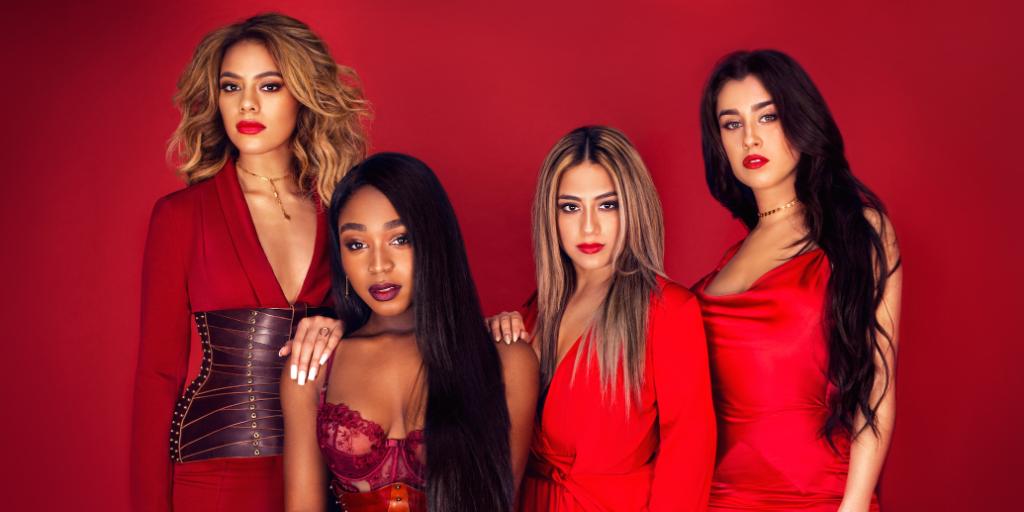 Or is it Fourth Harmony? As no surprise, Camila Cabello peaced out weeks ago. Either way, I'm nervous because it's equal to Zayn leaving One Direction- both of which were arguably the main focal point of the group with over-rated (Hey, Trump!) vocals. Granted, the rest of these bitches are talented af. They avoided the sophomore slump with the knockout 7/27 album, so I await their return as a whore-some foursome! They'll be performing without Camila for the first time live on 2017 The People's Choice Awards this month- bless us.
Nelly Furtado's alleged return
A separation that was more difficult that Jack and Kate on Lost– once she started making music without Timbaland after (what Brian declared) the top 10 best pop albums of the 21st century, Loose, it made me wish for them to reconnect annually. While her new album, The Ride, slated for a late March release will be with producers who are not Timbaland, I'll remain optimistic in that she's pushing to be different with her new short hairdo and 90s vibe video, "Pipe Dreams."
Charli XCX wants us to do drugs
In an effort to get rid of her The Fault in Our Stars "Boom Clap" shit trail, she's threatening promising her upcoming third album will be filled with nothing but "straight-up pop" and "more club-oriented [music].…  but some of it's harder and more aggressive, and you'll want to take more drugs to [one] half than the other." Hey, if there's on thing I know about myself, I'll swallow any version of commercial pop; I just can't promise how I'll digest it.